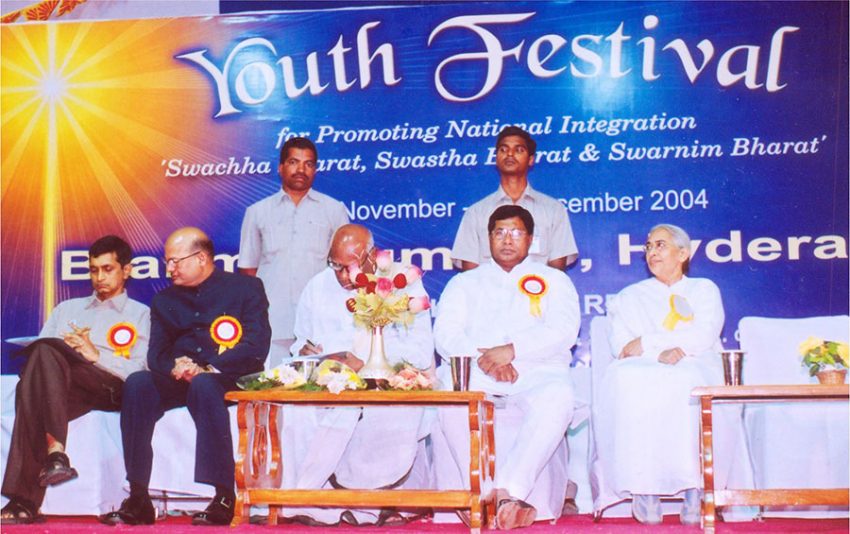 Youth Wing has organised Youth Festivals and National Integration Camps in different years
1997 –  1st Youth Festival for Value-based Society 
A unique festival was organised at Brahma Kumaris Academy for a Better World, Mt. Abu from 1st to 5th October 1997. The festival was aimed at motivating the youth to devote their energies in creating a better society and in developing a positive attitude towards their arts. 6 competitions, 8 workshops, seminar sessions, sessions of positive change course, street plays, value games, picnics etc. were the centre of attraction. 17 universities and 9 youth institutions actively participated in the festival. There were 200 competitors, 600 observers and 40 dignitaries who judged the various competitions and they were also speakers in other sessions.
The festival was inaugurated by Prof. S.B. Vora, the then Vice-chancellor of the Gujarat University. The Finale of the festival was presided by the chairperson of the Jurist Wing of R.E. & R.F., Mr Ramesh Shah and the Chief Guest was Mr Vinod Tripathi, the then Vice Chancellor of the Gujarat Vidyapith, Ahmedabad. Three universities were awarded for the best performance – Indira Kala Sangit Vishwa Vidyalaya, Khairagarh, Rani Durgavati Vishwa Vidyalaya, Jabalpur and Sardar Patel University, Vallabh Vidyanagar.
With a new ray of hope and a deep inspiration towards spiritual lifestyle and suggestions for arranging such festivals each year, youth proceeded towards a new beginning.
Experiences
"The program was organised very well. Without any doubts, the youth festival was successful in instilling moral and ethical values in the minds of youth. I was greatly impressed by the organizational set up of the Gyan Sarovar Campus – neat, clean, orderly & peaceful. I wish other institutions of India would learn the art of management from Brahma Kumaris".
V. R. Jagannathan, Prof. of Hindi, School of Humanities, IGNOU, New Delhi
"This is a valuable step to impart value-based education for youth to show their talents and to bring positive change in their behavior. An example of organisational capacity and hospitality. I gained a valuable experience in life".
Yoginder Singh Pundhir, Ex Dist. Education Officer, Alwar
"The youth festival was really a rewarding experience in many ways. It was indeed heartening to know that there is at least one organization in our country truly concerned about the degradation of moral values in our society and so taking the concrete steps towards enlightening the youth".
H. Sudhir Rao, Student – Bangalore
1998- 2nd Youth Festival on "Towards New Era through Creativity"
The 2nd Youth Festival was held at Mount Abu from 16th to 20th September, 1998, in which 20 judges and about 1200 youths representing 31 universities, institutions and organizations from different parts of the country participated. It consisted of 10 different competitions like Elocution, Essay Writing, Self Authored Poem, Painting, Mono-acting, Skit, Best from waste, Portrait and Folk Dance.
Discussions and deliberations were held in the plenary and seminar sessions and also in seven workshops on significant topics like:
1. "Marching from the Present period of darkness unto the Golden Dawn"
2. "Rajyoga Meditation – Spiritual Journey towards perfection"
3. Value of relationship
4. Youth as an ideal citizen
5. Being free from examination phobia
6. Sound mind in a sound body
7. Purity is the mother of peace and bliss
The festival was inaugurated by Shri Govind Singh Kanjla, the then Minister of State, Youth Services, Govt. of Punjab. The festival was also graced by Shri S. Chandra Mohan Reddy, the then Minister for Youth Services, Govt. of Andhra Pradesh. The Valedictory speech and the prize distribution were done by Shri Y. Ramakrishnudu, the then Speaker of the A.P. Legislative Assembly, The Late Rajyogini Dadi Prakashmani, Administrative Head of Brahma Kumaris blessed the festival.
Experiences
"It was an excellent experience for us. We have never witnessed such a superb festival organised in such an excellent way. The spiritual touch to the festival was the positive attainment and the spiritual perfection".
D. Rajshekhar Rao, Student, Mumbai
"I found the youth festival enthusiastic, energetic and educative. It is a great privilege for students and youths to develop their overall personality. During my stay at Gyan Sarovar, I found myself in paradise. Patience, politeness, discipline, cleanliness and all human values are adhered to in each and every corner. I wish to come here again and again".
1999- 3rd Youth Festival – "Spiritual Empowerment – A Clarion Call
The 3rd All India Youth Festival on "Spiritual Empowerment – A Clarion call" was organised from 30th August to 3rd September, 1999 at Brahma Kumaris Shantivan complex. In her inaugural address, Late Dadi Prakashmaniji, Administrative Head of Brahma Kumaris, told the 1500 participants, "With the awareness of the latent spiritual potential in yourself, you must come forward to transform today's Bharat into the Golden Bharat of tomorrow". Film actor Sudesh Berry and artist Bhairavi Raichura were the star attractions of the festival.
The festival included a seminar wherein Shri N. L. Parmar, the then Zonal Director, West Zone, NYK featured as Chief Guest. Five parallel workshops were held on different topics:
The festival featured 6 competitions in which 450 youths representing 22 universities and 20 youth institutions, actively participated. The valedictory and prize distribution sessions were presided over by Brahma Kumar Brij Mohan, Editor of Purity Magazine.
2001-National Integration Camps (N.I.Cs)
With the support of the Ministry of Youth Affairs and Sports, Govt. of India, 7 N.I.Cs. were organised throughout the country and the finale was in the National Capital.
The five days program at each of these residential camps included activities oriented towards bringing about religious, linguistic, social and cultural integration besides aiming at developing values like tolerance, peace, cooperation, responsibility etc. The camps also included competitions, sharing of experiences and guidance by the experts. After completion of the camps at regional levels, the finale of the festival was organised in Delhi from 18th to 22nd December, 2001.
Youth Festivals were organised at six places in India wherein representatives from all the states were called as per geographical area of our country. This six cities are Ahmedabad, Raipur, Hyderabad, Gauwahati, Kolkata and Chandigarh.
In Ahmedabad participants from Gujarat, Rajasthan, Maharashtra, Diu, Daman, Dadra & Nagar Haveli were invited.  Where as in Raipur participants from Madhya Pradesh, Uttar Pradesh, Chattisgarh, Delhi, Goa in Hyderebad participants from Karnataka, Kerala, Andaman & Nicobar Islands, Pondicherry, Lakshadweep, Tamil Nadu, Andhra Pradesh in Gauwahti participants from Manipur, Mizoram, Nagaland, Arunachal Pradesh, Tripura, Meghalaya, Assam in Kolkata participants from Bihar, Orissa, Jharkhand, Sikkim, West Bengal and in Chandigarh participants from Haryana, Punjab, J & K, Chandigarh, Himachal Pradesh, Uttaranchal were invited