Shantidoot Youth Cycle Yatra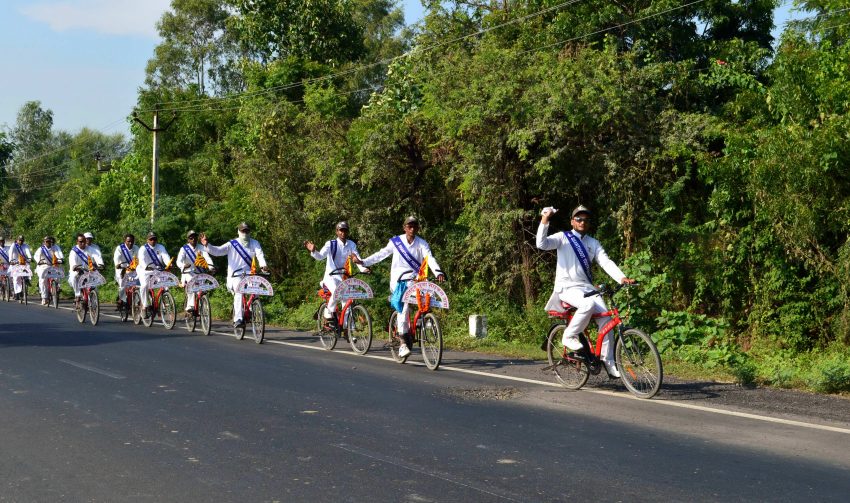 Shantidoot Youth Cycle Yatra
Shantidoot Youth Cycle Yatra was happened in the month of September – October 2013. Total 74 Yatras were organised with a vision of Glorious Bharat.
A Vision of Glorious Bharat
Ancient Indian Culture has always been an inspirational lighthouse for value-based lifestyle. We have been developing fast in the various fields all around. But the missing dimension is attention towards shaping strong, emotionally balanced personalities to face the present day challenges successfully. Spirituality is the best tool for re-emerging the dormant powers and divinity within our true self.
Experiencing the miracles of these spiritual powers, a group of young dynamic youths have come forward to persuade other youths towards a vision of Glorious Bharat. They have decided to spread in all directions of our country to share their experiences and motivate youths towards value-based lifestyle. We invite all the youths across the country to join hands and work togather for empowering our youth force. It will be a milestone in stepping towards Glorious Bharat where there is Peace, Love, Justice, Prosperity and Harmony.
Aims & Objects
1.Establishing a Value-based society through righteous/virtuous Youth
2.Respecting and Empowering Women
3.Ahimsa Parmo Dharma (Non-violence,the Supreme Religion)
4.National Integration
5.Healthy addiction free society
6.Stress Free living through Rajyoga
7.Social Development through Education